The software technology giant Google has rolled out a new feature in its Google Translate app. The company has been working on the speech converter feature on the app for quite a long time now. The company has now launched a much-awaited speech to text converter on the app for Android users. 
From today onwards using Google translate app the users will now be able to convert eight different languages into text. For instance, if someone who knows French can now translate their spoken language to English text which is now possible with Google Translate Android app. The app will now be supporting eight languages French, German, English, Portuguese, Russian, Spanish, Thai as well as Hindi.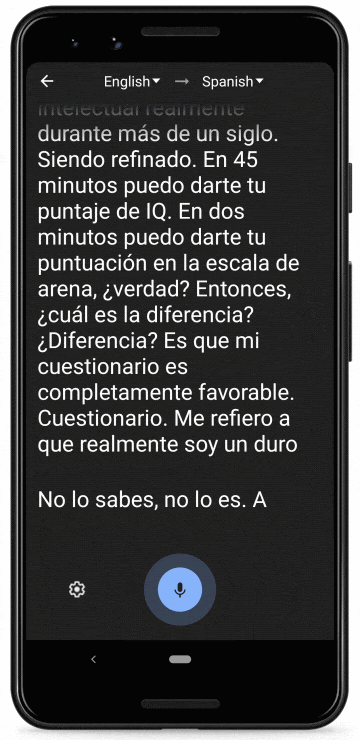 This feature is a blessing to those who are not well aware of any of these languages but if they desire to share their feelings or their stories with other people in the language they understand. The company's CEO Sundar Pichai took to Twitter to announce the rollout of the Transcribe feature. His tweet reads, "We're launching a Transcribe feature in Google Translate that can convert speech into another language as it's happening. Starting in 8 languages, rolling out to Android today, more to come soon."
How to use transcribe feature in Google Translate:
First of all download the Google Translate app on your Android mobile phone.

If you have the app downloaded to your phone make sure it has the latest update from the Google Play Store.

Now launch the app and tap on the Transcribe option sitting next to the conversation option.

Select the source and target languages from the language dropdown at the top.

You can pause or restart transcription by tapping on the mic icon. 

You also can see the original transcript, change the text size or choose a dark theme in the settings menu. 
According to the company, the new transcribe features efficiently work in a quiet environment with one person speaking at a time. "In other situations, the app will still do its best to provide the gist of what's being said. Conversation mode in the app will continue to help you to have a back and forth translated conversation with someone. " the blog post explained.
For the latest gadget and tech news, and gadget reviews, follow us on Twitter, Facebook and Instagram. For newest tech & gadget videos subscribe to our YouTube Channel. You can also stay up to date with the Gadget Bridge Android App.