At this year's Google annual developer conference it has not only introduced us to the next generation of the mobile operating system- Android 12 but it has also announced new privacy features for the Android devices that enable apps to harvest data of the users. So with the new features, the company aims to limit apps from collecting data about the users.  
Until now Android 12's three developer previews have been rolled out. At the Google I/O 2021, the tech firm has released the first beta of Android 12 giving us a look into what features the next OS will bring when it lands on our devices.
For a more personalised experience, the entire UI of Android 12 has been revamped from colour to shapes, light and motion. Initially, Pixel devices will be the first to be able to personalise their phone with a custom colour palette and redesigned widgets. They can choose wallpaper, and the system automatically determines which colours are dominant, which ones are complementary and which ones just look great. It then applies those colours across the entire OS: the notification shade, the lock screen, the volume controls, new widgets and much more.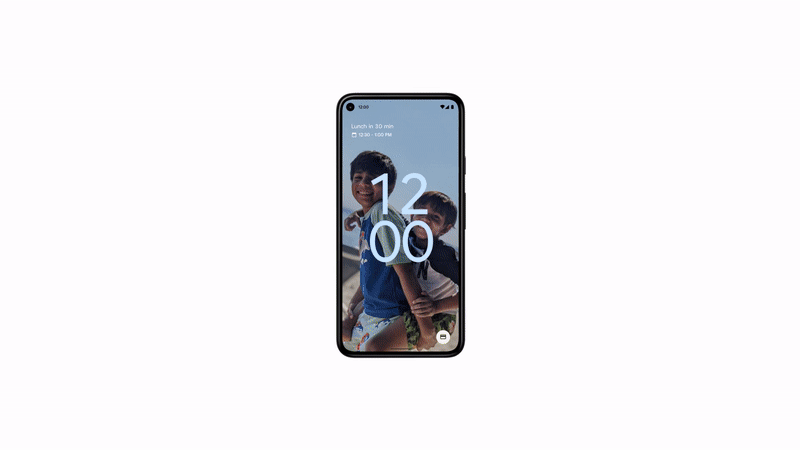 As soon as Android 12 drops to the device, the tap, swipe and scroll will become more smooth and come with animations. For instance,  when you dismiss your notifications on the lock screen, your clock will appear larger so you know when you're all caught up.
The entire underlying system is much simplified and fluid by reducing the CPU time needed for core system services by up to 22% and reducing the use of big cores by the system server by up to 15% so that the device can run longer without a charge. 

Moreover, the notification shade, quick settings and even the power button have been redesigned. The notification shade is crisper, and playful and provides an at-a-glance view of your app notifications. While the Quick Settings will enable you to control the entire operating system with a swipe and a tap. It's been rebuilt to include Google Pay and Home Controls, while still allowing for customization. Also on long pressing the power button will invoke Assistant to make a phone call, open apps, ask questions or read aloud text-heavy articles.
In terms of Privacy and security Android 12 will include features that give you more transparency around which apps are accessing your data, and more controls so you can make informed choices about how much private information your apps can access. The new OS will now have a new Privacy Dashboard to view your permissions settings as well as what data is being accessed, how often and by which apps. It also lets you easily revoke app permissions right from the dashboard. 

In addition to this new indicator to the top right of your status bar is another addition by the company so that you know when your apps are accessing your microphone or camera. And if you want to remove app access to these sensors for the entire system, for this two new toggles have been added in Quick Settings.
Also to give more control over how much information you share with apps Android 12 has brought new approximate location permissions so as to limit the app from seeing just your approximate location instead of a precise one. For example, weather apps don't need your precise location to offer an accurate forecast. 
Apart from this Google has also built privacy protections directly into the OS. With the release, the company has introduced Android Private Compute Core which will introduce you to new technologies that are private by design and keeping your personal information safe, private and local to your phone. This functionality enables features like Live Caption, Now Playing and Smart Reply. Google noted that the protections in Private Compute Core are open source and fully inspectable and verifiable by the security community. 
It should be noted that all these features have been released with Android 12 beta and more features are expected to arrive later this year.
For the latest gadget and tech news, and gadget reviews, follow us on Twitter, Facebook and Instagram. For newest tech & gadget videos subscribe to our YouTube Channel. You can also stay up to date using the Gadget Bridge Android App.