Google Photos app has now got a refreshed look. Yes, Google has revealed that it has given a redesign as well as new features to its app. With a new icon, it now comes with three tabs in order to manage the photos and a new Map view feature as well.
Google has revealed a redesigned look of Google Photos via its blog post. "Five years ago, we noticed that people were struggling to manage their photos and videos—there wasn't a place to keep them all, storage was disorganized, and it was hard to find specific photos. We designed Google Photos to solve these problems and since then more than one billion people use the app each month. Over the past few years, we've also seen that people use Google Photos when they feel nostalgic and want to reminisce. Google Photos has become more than just an app to manage your photos, it's become the home for your life's memories. And that's why today, we're launching a redesigned Google Photos, focused on your memories, to help you find and relive your most treasured moments."

Earlier Google photos had a pinwheel design logo as a nod to childhood and nostalgia. But now the icon looks much more refreshing and simplified while retaining the pinwheel shape in order to remind past memories.
According to the search giant the redesigned Google Photos the app has received a new three-tab structure: Photos, Search as well as Library.
With the newly redesigned look the thumbnails on the app have become much larger along with auto-playing videos, and less white space between photos. At the very top, you'll also notice a larger Memories carousel.
The search is now front-and-center in the navigation bar at the bottom for quick access. Also, you will now see a new interactive map view While the library tab contains the most important destinations in your photo library, like Albums, Favourites, Trash, Archive and more. And if you're in the U.S., EU or Canada, you'll also see our Print Store, where you can purchase printed products featuring your own photos. Also now your shared consent can be accessed by tapping on the "conversation" button in the upper left corner.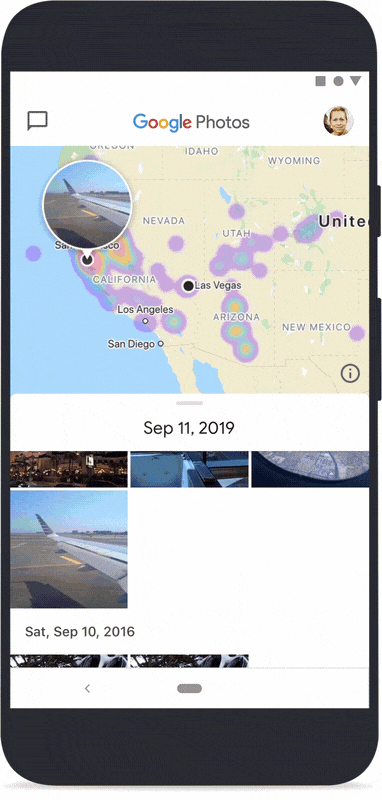 According to the company, you will be able to pinch or zoom around the globe to explore photos of your travels, you can also view where you have taken the most photos around your hometown, or find that one photo from somewhere on your road trip across the country. You can manage your picture and be searchable in Google Photos by enabling location from your device camera, Location History, or manually add locations. All these will show up on the map view.
As we already know Google introduced Memories to help you revisit your most important memories from years past. The company has added more features to it by bringing the best pics of you and your closest friends and family over the years, trips, and even just the highlights from last week. In addition to this, the For you tab has been given a new place in the Memories section which includes automatic creations–like movies, collages, animations, stylized photos and more. Now you also get the option to control what types of memories you receive.
For the latest gadget and tech news, and gadget reviews, follow us on Twitter, Facebook and Instagram. For newest tech & gadget videos subscribe to our YouTube Channel. You can also stay up to date with the Gadget Bridge Android App