Microsoft Word (also known as Word) is a simple yet sophisticated word processing application program/package that is specifically designed for performing various word processing tasks such as typing, editing, and printing textual content. It gives you complete control over the typographic work's production and presentation. 
Microsoft Word also includes tools for basic graphic design, document statistics, spelling and grammar checks, and more. These, and a slew of other features and functions, set Word apart from other word processing applications, as well as mechanical word processors (e.g. typewriter).
The more you know about the features of Microsoft Word, it's always less. So, here we have listed down 10 hidden features of MS Word for you that can save your time, and make you an efficient user. 
Inspect Your Document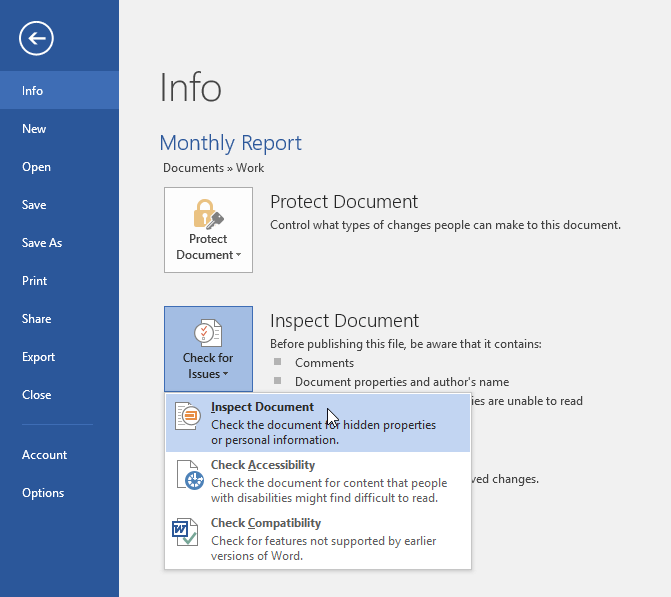 Collaboration is an essential aspect of MS Word, but protection must also be considered. In Word, you can use the Document Inspector to search your document for any sensitive details.
When you make or update a text, you automatically add some user details to it. Before sharing a record, the Document Inspector will assist you in erasing this type of data.
How can one access the option:
Go to File > Info > Inspect Document
Check for Issues > Inspect Document
Office Support explains to you step by step how to use the Document Inspector.
Beautify Fonts with Kerning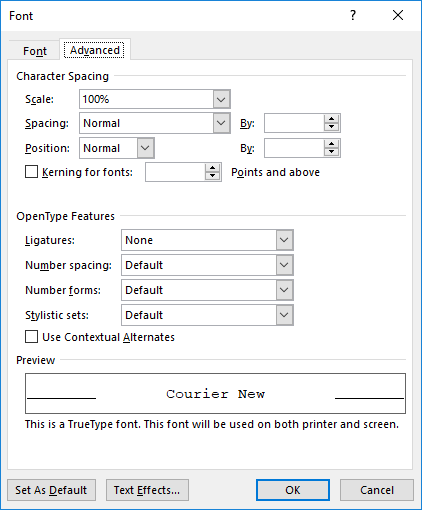 Even if you spend a lot of time writing in Microsoft Word, you may not be aware of kerning. If you're working on a document where the appearance of the text is important, this is a function you can look into.
The "spacing between characters in a proportional font," according to Kerning. When you use kerning to make letters, punctuation, and symbols fit together perfectly, you'll notice that there's less room between them.
How can one access the option:
By clicking the arrow in the bottom right corner of the Font portion of the ribbon, you can access the Font Dialog Box.
In the window, go to the Advanced tab.
Under Character Spacing, check the box for Kerning for fonts.

Enter the minimum point value you want to use on the right.

Click the OK button.
Translate Languages
All translations in Microsoft Office are handled by Microsoft Translator. From the Review tab, use the Translate function. Translate a single word or a complete sentence. Alternatively, you can translate the entire document and save it as a separate Word document.
How to access the option:
On the right, you'll see the Translator tab, where you can choose and modify languages. 

Use this sidebar to highlight each word and learn more about it.
Write Equations in Word
The Equation Toolbar can be used to construct your own advanced equations in mathematics, physics, or chemistry. With a single click in Term, you can insert a variety of well-known equations.
How to access the option:
Choose Insert > Equation > Insert New Equation
Put a watermark on it
If you don't need something drastic to protect the paper, stick to adding a watermark.
How to access the option: 
 Go to the "Design" tab, then "Page Background" and "Watermark."
 The basic Word kit comes with four models, but you can make your own custom watermark.
Repetition of the previous command
MS Office can duplicate the previous command if you click F4. This works with almost every command, from text entry to deletion, style application, and so on.
Protect your document
If you want to protect your document from people to view there's an option for you. You can secure your record easily within a few steps. 
How to access the option:
Go to File> Information> Protect Document 
You may also set a digital signature, limit or prevent file editing, and create a password in the last tab.
However, be aware that if you forget the password, you will lose access to the document.
Hidden Text
You can hide text in a document if it contains sensitive information that you don't want anyone to see. You can't display or print text that has been hidden unless you use the Hidden Text option in the Options dialogue box. The characters appear with a dotted line underneath when you view or print hidden text. Let's know how it works: 
Select the text you want to hide or the text that has been concealed.

Select or clear the Hidden checkbox by going to Home > Font Dialog box > Font.
Hidden Text to Print: Select File > Options > Display from the File menu. 
Check the box for Hidden text > Check the box for Print hidden text > Click the OK button.
Set individual key combinations
This feature lets you set individual key combinations for you to quickly access programs according to your need. 
How to access the option:
Shift+F10 will open the context menu for the current object.
You can use the up/down arrows to pick items from the menu. 
This combination can be used to replace the right-click and allow you to type like a pro with minimal mouse use.
Making the text more readable
Select "Hyphenation" from the "Page Layout" section to do so. It is possible to operate manually and automatically. Long empty spaces would be removed, making the text appear more organic and comfortable to read.
We highly recommend you to use all these options in Microsoft Word, so that you can work efficiently. 
ALSO READ: MS Word keyboard shortcuts.
ALSO READ: Predictive Text Feature on MS Word.