The tech giant Google will be adding a toggle to personalise your Google apps. For this, it has introduced two new settings allowing the users to control Google smart features and personalisation in their Gmail, Meet and Chats. So now you can easily turn off smart features such as tabbed inbox, Smart Compose and Smart Reply in Gmail; reminders when your bills are due in the Google Assistant; and restaurant reservations in Google Maps.
As per the recent blog post by Google, soon the users will be able to get control of their data in Gmail, Meet and Chat with the help of new settings. This will bring the ability to enable or disable some of these individual smart features such as sorting your emails into different inbox tabs, like Social or Promotions, allowing Gmail to help you write emails faster using the Smart Compose feature. You can even turn on or off the smart reply feature in Gmail and Google Assistant reminders, calendar events, summary cards and more.
The upcoming setting will allow all the users if they want to continue using these smart features and giving you choice over the data processing that makes them possible. The blog post says, "The ability to turn on (or not) some of these individual smart features is not new. What's new is a clearer choice over the data processing that makes them possible. These new Google settings are designed to reduce the work of understanding and managing that process, in view of what we've learned from user experience research and regulators' emphasis on comprehensible, actionable user choices over data."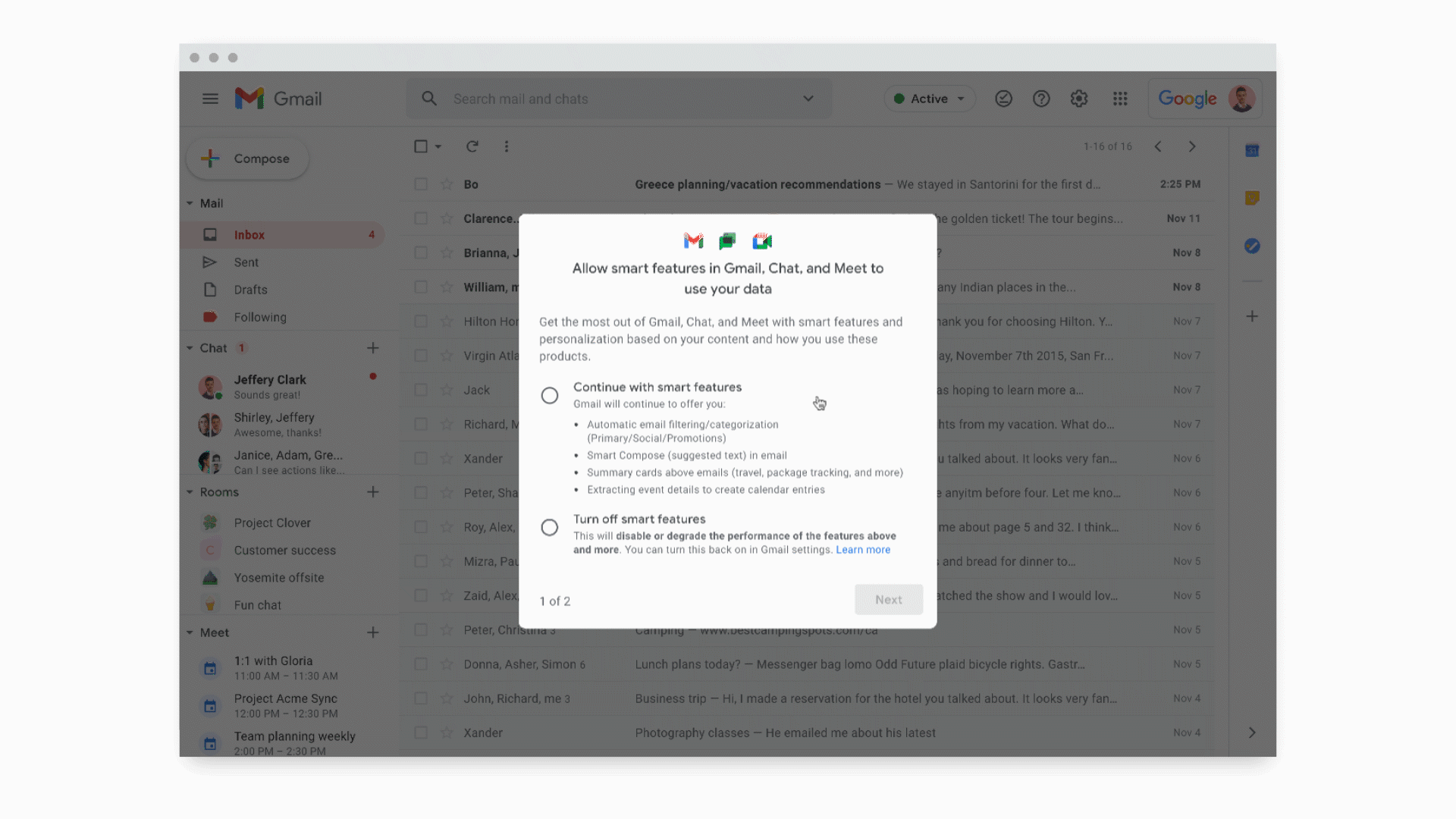 Those who are unaware of, Google allows smart features in Gmail, Chat and Meet allowing personalisation based on your content. It allows automatic email filtering, smart compose, summary cards above emails (travel, package e tracking and more) and extracting event details to create calendar entries.
So, when you choose to turn this off then this will disable or degrade the performance of the above features and more. And at any time if you want to go back to the older settings you can easily turn the smart settings on.
In addition to this, it also sends assistant reminders of your bills that are due while maps display restaurant reservations, travels bundling your itineraries and GPay surfacing loyalty cards and tickets. These features can be easily disabled and can turn this back on in Gmail settings.
According to the tech giant, Google ads are not based on your personal data in Gmail, no matter which choice you make. And you are said to remain in control of your data, whether you're an individual Gmail user or a Google Workspace administrator.
"If you decide not to use smart features and personalization, you will still be able to use Gmail and our other products. And if you decide later on that these features are helpful and you'd like to turn them on, you can do so in your Gmail settings. At home or at work, the choice should be yours. And we're always working to keep it simple," the blog post stated.
For the latest gadget and tech news, and gadget reviews, follow us on Twitter, Facebook and Instagram. For newest tech & gadget videos subscribe to our YouTube Channel. You can also stay up to date using the Gadget Bridge Android App.